Beer Heaven
We carry all the domestic and imports you could ask for, but what sets us apart is our huge craft brew section. Wisconsin is historically know for it's ability to create great beer. That tradition holds true even today with local micro breweries creating small batch recipes that are worth experiencing.
Viking Liquor is known for being the place to find a smorgasbord of brews. If we don't carry it, let us know the item you are looking for and we will look into getting it for you.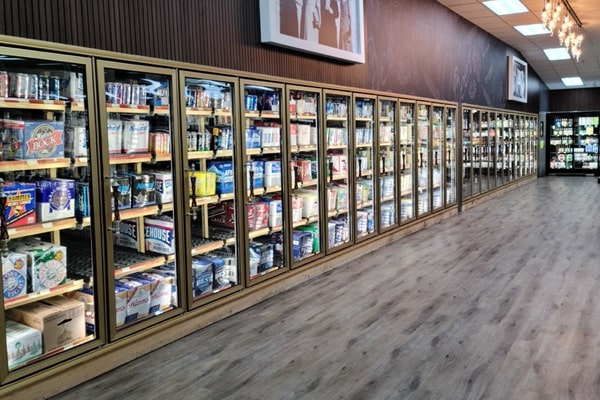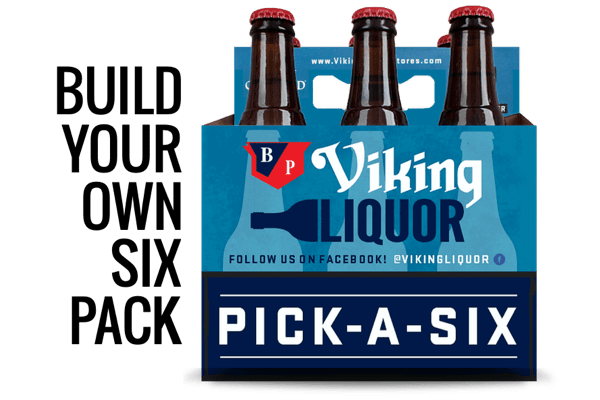 Pick A Six
EVERY DAY BEER DEAL
Build You Own Mix & Match 6 PACK!
Micros · Imports · Ciders · Wine Coolers
We'll subtract $2.01 from your total.
AMERICAN LAGERS: Adjunct Lager, Amber/Red Lager, Double/Imperial Pilsner, Malt Liquor, Pale Lager, California Common/Steam Beer, Light Lager, Low Alcohol Beer
CZECH LAGERS: Czech Pilsener
EUROPEAN LAGERS: Euro Dark Lager, Euro Pale Lager, Euro Strong Lager
GERMAN LAGERS: Bock, Doppelbock, Dortmunder/Export Lager, Eisbock, German Pilsener, Kellerbier/Zwickelbier, Maibock/Helles Bock, Märzen/Oktoberfest, Munich Dunkel Lager, Munich Helles Lager, Rauchbier, Schwarzbier, Vienna Lager
JAPANESE LAGERS: Happoshu, Japanese Rice Lager
AMERICAN ALES: Amber/Red Ale, Barleywine, Black Ale, Blonde Ale, Brown Ale, Dark Wheat Ale, Double/Imperial IPA. Double/Imperial Stout, IPA, Pale Ale (APA), Pale Wheat Ale, Porter, Stout, Strong Ale, Wild Ale, Black & Tan, Chile Beer, Cream Ale, Pumpkin Ale, Rye Beer, Wheatwine
BELGIAN/FRENCH ALES: Belgian Dark Ale, Belgian IPA, Belgian Pale Ale, Belgian Strong Dark Ale, Belgian Strong Pale Ale, Bière de Champagne/Bière Brut, Bière de Garde, Dubbel, Faro, Flanders Oud Bruin, Flanders Red Ale, Gueuze, Lambic-Fruit, Lambic-Unblended, Quadrupel (Quad), Saison/Farmhouse Ale, Tripel, Witbier
ENGLISH ALES: Baltic Porter, Braggot, English Barleywine, English Bitter, English Brown Ale, English Dark Mild Ale, English India Pale Ale (IPA), English Pale Ale, English Pale Mild Ale, English Porter, English Stout, English Strong Ale,, Extra Special/Strong Bitter (ESB), Foreign/Export Stout, Milk/Sweet Stout, Oatmeal Stout, Old Ale, Russian Imperial Stout, Winter Warmer
FINNISH ALES: Sahti
GERMAN ALES: Altbier, Berliner Weissbier, Dunkelweizen, Gose, Hefeweizen, Kölsch, Kristalweizen, Roggenbier, Weizenbock
IRISH ALES: Irish Dry Stout, Irish Red Ale
RUSSIAN ALES: Kvass
SCOTTISH ALES: Scotch Ale/Wee Heavy, Scottish Ale, Scottish Gruit/Ancient Herbed Ale
Fruit/Vegetable, Herbed/Spiced, Smoked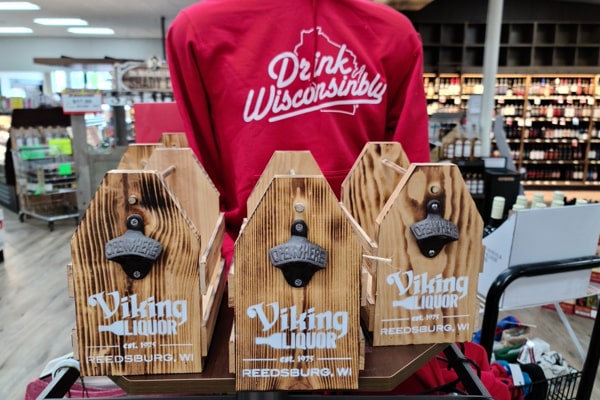 Handcrafted Wooden Beer Carrier
Our exclusive locally crafted beer crate with mounted vintage bottle opener is truly a unique gift for any beer lover.
Fill the crate with choices from our massive selection of bottled beers to create an ideal present for that hard to shop for person in your life.
Handcrafted Wooden Carrier: $20.00
Can't seem to find what you're looking for?
We try to honor all requests when possible. Fill out the form on our New Items page with your request and we'll get back to you.